Intentional

We've designed our products to focus on developing basic vocabulary (by theme) for longer language retention, and spark children's interest in their South Asian heritage.

Approachable

Our products include English transliterations for words in the native script, making them easy-to-use for speakers and non-speakers of South Asian languages.

Interactive

Our books and toys are made for little hands - keep your children engaged and encourage independent, screen-free playtime!
What Our Customers Are Saying
Ailia Rizvi

I ordered My First Words (Urdu) for my nephew and the book is amazing! He loves the vivid colors and I can wait to hear him learn Urdu words. What really surprised me, however, was the level of customer service provided by the Bright Bandar team - due to my own error, my shipment was delayed and set to be returned to the company. The team worked with me and with the shipping company to get the item back to me as soon as possible. I am looking forward to ordering more products from Bright Bandar, and will be telling all my friends about them too.

Iva

We received this (blocks) as a present for our one year old. She loved playing with the individual boxes and began repeating after us the numbers and animal/object names in both languages. This will be a toy we will use for a long time as our child learns counting, object identification, and also gets to know her roots in India. The material is cardboard. It is sturdy. And the print quality is good, the images are bright.
Thank you for a great product!

Krina

LOVEE this book. It shows great opportunities to expand children's vocabulary in our language (Gujarati). Every page of the book has focused on words children would come across in their everyday life including common south Asian food names. My nearly 3 year old loves it. Very well done. Thank you.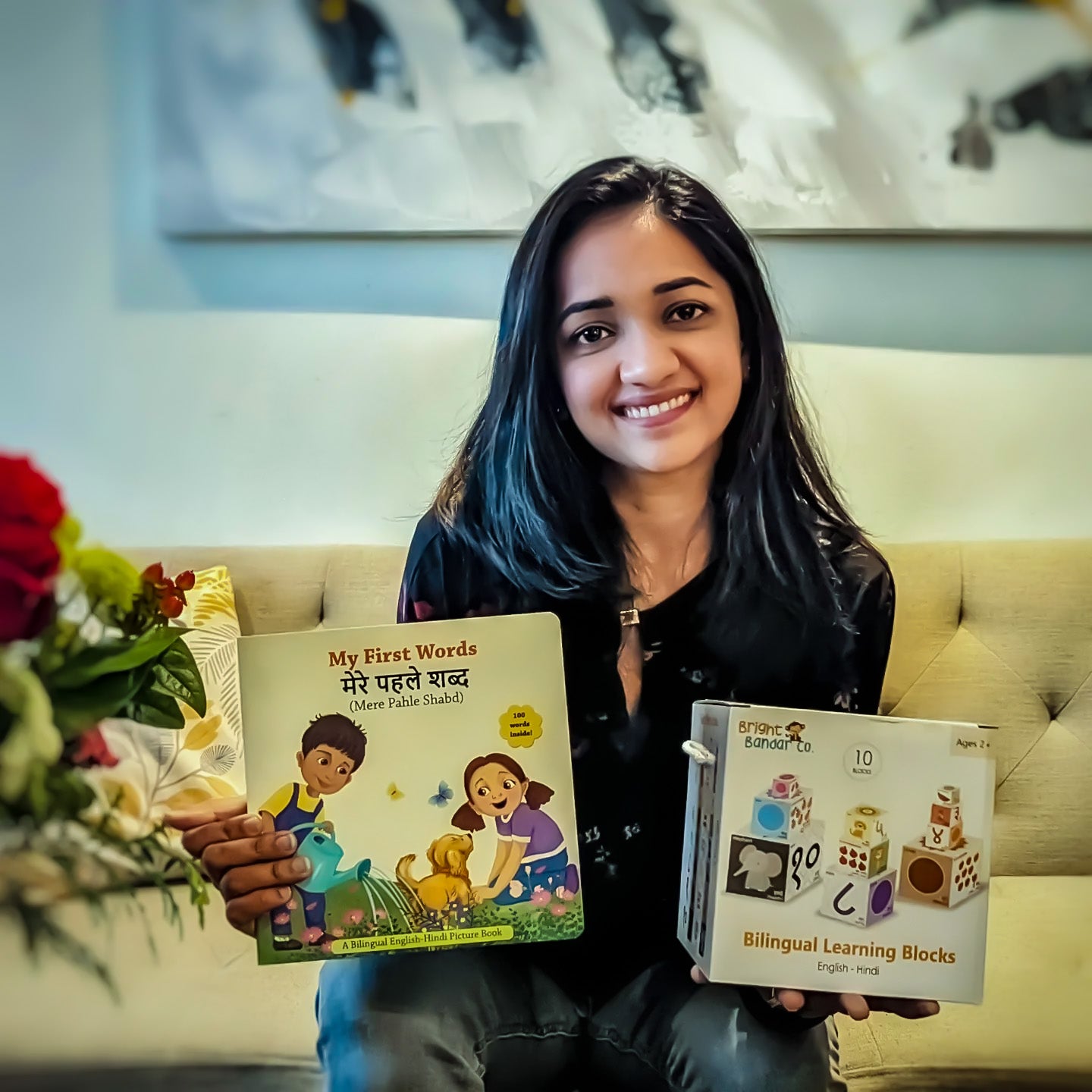 Mark Carson rightly said: "Toys are the tools of childhood, and the simple act of playing allows kids to develop a lifelong love of learning".
We want to extend this "lifelong love of learning" in your child to learning their mother tongue! This is the type of impact we are striving for through our bilingual products - having kids feel this LOVE and PRIDE when they speak in their mother tongue!
Read more